USATON Full-coverage Range Hood, Winner of China Household Appliance Golden Stone Award
The winner of China Household Appliance Golden Stone Award was unveiled in the first China Home Appliances Industry Building Materials Channel Fortune Summit on July 2. As a result of expert reviews, USATON Full-coverage Range Hood A3 got the award of Popular Product in Building material channels. And this is not the first time USATON wins the similar award. Such full-coverage range hood is specially designed for Chinese families.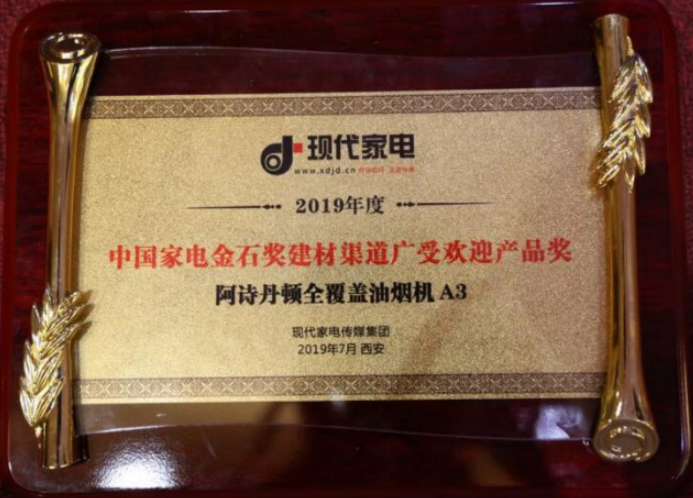 The reason why USATON full-coverage range hood can be favored in the race is that this product is completely designed according to the cooking habits in Chinese families. Specifically, it features favorable capacity to quickly suck away wide-ranging smoke in the airflow of 21 m³/min. Even the smoke which is located 565 mm away from the stove could be filtered out, breaking the limits of outside design for preventing smoke from escaping.
Meanwhile, thanks to its cover made of Nano-polymer material, range hood tends to be resistant to grease. It is not difficult to remove the mesh and filter from range hood for further cleaning. It becomes more convenient to thoroughly clean hard-to-reach areas, where grease has landed.
On top of that, vapor cleaning system inside the range hood is designed to form a gas-liquid mixture at 100° for sanitizing and air-drying the wheels automatically without noise.
Therefore, our range hood perfectly matches the functional characteristics of the product with the needs of consumers. Additionally, the appearance of the product is allowed to be harmonized with the house style. As such, product installation gets more convenient and practical, which highly enhance the utilization rate and the overall aesthetics of kitchen space. Such advantages lead our product this time to take the top spot.
At present, we are living in the world where everything is interconnected in an intelligent way. In the context of increasing consumption ability and higher demand for home decoration and kitchen appliances, consumers now do prefer those high-end appliances which feature multifunction & fashionable appearance as well as fit the decoration style.